Quality management system is an indispensable part for businesses to operate and develop sustainably. Quality management systems are set up to control both production and business processes to ensure they work smoothly, creating products of uniform quality and a basis for continuous improvement.
What is the quality management system?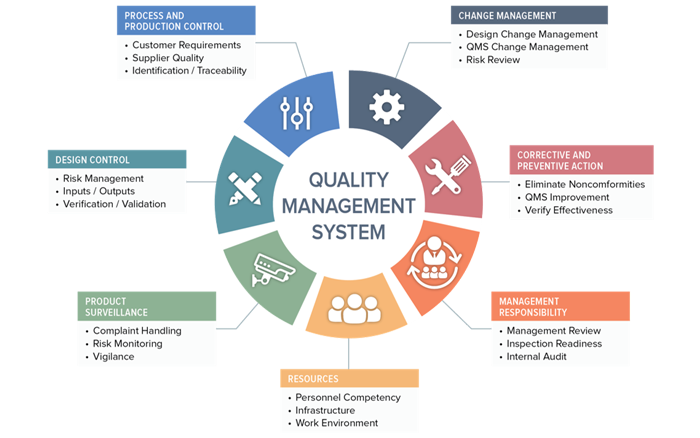 Quality management system (QMS) is a tool to help businesses control activities to achieve goals and sustainable development through components and factors such as policies and procedures. , processes, organizational structure, resources, innovation ... and it focuses on responding to customer requirements and improving their satisfaction. QMS allows organizations to identify, measure, control and improve the processes of various core business activities and ultimately lead to improved business performance.
There are many ways to build a quality management system in an organization depending on its size, capabilities and status. Many organizations now build quality management systems based on the ISO 9000 series.
Elements of a quality management system
Quality policy and quality objectives
Quality Manual
Organizational structure, functions and mission
Processes, procedures, instructions for controlling activities
Data management, records
Customer satisfaction from product quality
Opportunities for improvement
Measurement & reporting system
Benefits of quality management systems
When applied consistently, through continual improvement of the quality management system can reduce costs throughout the organization, by eliminating redundant actions, making full use of resources and management systems. Quality control ensures the delivery of products with good quality and uniformity to customers significantly reducing operation cost.
In addition to controlling products to maintain consistent quality, a long-term benefit of a quality management system is to always recognize, measure customer satisfaction and feedback, which is the basis of price suitability of the product to the needs of the market as a basis of improving and developing products and services better.
Organizational development
One of the benefits of the Management System is that improving the organization is helping to improve the company's culture by training all employees on quality and making quality a concern to everyone. In addition to focusing on product quality to prevent mistakes in manufacturing quality management system products, it also focuses on developing a teamwork spirit that leads to the formation of multi-functional interdisciplinary teams.
Set up a text system as required by ISO 9001
Assessing the current system to make an implementation program
Setting quality policies & goals
Setting up a quality manual
Establishing organizational structure, functions and mission
Planning the structure of the document system
Establishing a process for controlling product creation processes
Establishing procedures to support control & maintenance of the system
Setting up a system to control data, records and reports
Educate
Quality awareness training
Training knowledge about ISO-9001
Training internal assessment methods
Training to approach the new system
Instructions for operating documents and monitoring measurement
Evaluate the effectiveness of application and adjustment
Check, evaluate and monitor the effectiveness of the system

Analysis to provide solutions to overcome, prevent and propose improvements